Threading a sewing needle can be difficult and frustrating! But with the Automatic Needle Threader, all it takes is a simple push of the button and the work is done for you. Helping to improve your work efficiency and greatly assisting low vision, the elderly, and anyone who has trouble with threading a needle on their own.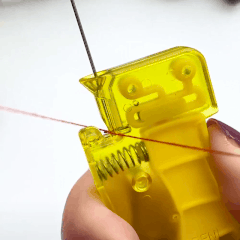 Automatic Threading
You no longer require good eyesight with Automatic Needle Threader, 
solve your threading problems with a simple click of the button. 
Durable Material
Made of high-quality plastic, durable, and flexible. Non-toxic, tasteless, and harmless. The yellow appearance is stylish, bright, and easy to find.
Easy To Use
No need to focus on pinholes.
Wide Applications
Suitable for everyone, no matter your eyesight strength, the Automatic Needle Threader is your solution to what used to be a difficult and time-consuming task.
User Friendly
Automatic needle threader is very user friendly, as described in the directions below.
Great Gift Idea
Sewing friend is the perfect gift for your special loved one who loves to sew.
Note:  The "PCS" mentioned in the description means "Pieces"
How it works:
1. Insert the needle, press the button to expose the hook
2. Hang the sewing thread on the hook
3. Release the button
4. Pull out the needle and finish the work